TransFix® has been validated with a number of specific sample types and optimised with specially designed sample collection tubes.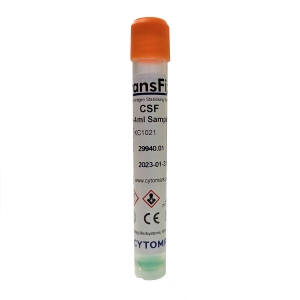 Cerebrospinal Fluid
(CSF)
Benefits of TransFix® Sample Collection and Sample Storage Tubes
Easy to use – just add your sample and mix by inversion
Prefilled tubes to reduce preparation time before collection
Ensures sample integrity during transportation between clinical sites
Eliminates the need for weekend and evening work
Reduces the impact of unexpected machine breakdown or staff shortages
Allows for repeat testing of samples without the need for patient recall and repeat sampling
Greater efficiency in testing – allows for batching of samples prior to testing
Reduction in costs associated with the above advantages
Other Sample Types
TransFix® is a versatile reagent which has been used for multiple sample types, including lymph nodes, bone marrow and animal blood. An abundance of literature can be found in our library on this and others. Read below for examples of other uses of TransFix:
Applications of TransFix: Stabilisation of Bone Marrow for Flow Cytometry Bone marrow (BM) examination is an essential procedure for the ...
Read More
There has been increasing interest in extracellular vesicles (the "Exosome") as possible biomarkers for disease and as novel cell-cell communicators ...
Read More