Analysis of white blood cell infiltration of Cerebrospinal Fluid (CSF) is important in the diagnosis of diseases including inflammatory neurologic diseases, acute and chronic leukaemia, myelodysplastic syndromes, lymphomas, myeloma, autoimmune diseases, immunodeficiencies and solid tumours. Flow cytometry is an important method for diagnosis, classification and monitoring of these diseases. However, cells within untreated CSF samples are typically low in number and degrade rapidly ex vivo, resulting in low sensitivity of disease detection.
Stabilisation of CSF with TransFix/EDTA CSF Sample Storage Tubes provides increased recovery of myeloid and lymphoid cells for up to 72 hours for analysis via flow cytometry, compared to untreated or cell culture medium treated CSF (1,2).
TransFix CSF Sample Tubes are CE marked for IVD use in Europe.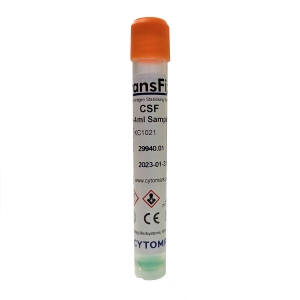 Benefits of TransFix CSF Sample Tubes
Increased disease detection – early diagnosis and treatment for better patient outcome
Reduction in the need for repeat lumbar puncture – reduced costs and trauma for patients
Provides the opportunity to transport the samples for centralised diagnosis and multicentre clinical studies
Easy to use – just transfer 1-4ml of CSF sample into the tube within 1 hour of lumbar puncture and mix by inversion.
Provides greater flexibility for the laboratory – eliminates the need for weekend and evening work and reduces the impact of unexpected machine breakdown or staff shortages.
Recommended in the guidelines published in the British Journal of Haematology (3,4) and endorsed by European Society for Clinical Cell Analysis and the Italian Society for Clinical Cell Analysis (5), the Spanish Lymphoma Group (6), Spanish Group for the Study of CNS Disease in Non-Hodgkins Lymphoma (7), Brazilian Group of Flow Cytometry (8), International Working Group on Flow Cytometric Immunophenotyping of Cerebrospinal fluid (9), Colombian Consensus of FCM (10).
References
de Jongste AH, Kraan J, van den Broek PD, Brooimans RA, Bromberg JE, van Montfort KA, Smitt PAS, and Gratama JW. Use of TransFix™ Cerebrospinal Fluid Storage Tubes Prevents Cellular Loss and Enhances Flow Cytometric Detection of Malignant Hematological Cells After 18 Hours of Storage. Cytometry Part B 2014; 86B: 272– 279. https://doi.org/10.1002/cyto.b.21097
Kaenzig et al. Evaluation of TransFix/EDTA CSF Sample Storage Tubes compared to alternative preservation methods (Caltag Medsystems Ltd 2022- unpublished)
Johansson U, Bloxham D, Couzens S, Jesson J, Morilla R, Erber W, and Macey M. (2014). Guidelines on the use of multicolour flow cytometry in the diagnosis of haematological neoplasms. British Journal of Haematology, 165, 455–488.
Baraniskin A, Deckert M, Schulte-Altedorneburg G, Schlegel U, Schroers R. Current strategies in the diagnosis of diffuse large B-cell lymphoma of the central nervous system. Br J Haematol. 2012 Feb;156(4):421-32. doi: 10.1111/j.1365-2141.2011.08928
Del Principe MI, Gatti A, Johansson U, Buccisano F, Brando B. ESCCA/ISCCA protocol for the analysis of cerebrospinal fluid by multiparametric flow‐cytometry in hematological malignancies. Cytometry. 2020; 1– 13. https://doi.org/10.1002/cyto.b.21981
Peñalver FJ, Sancho JM, de la Fuente A, Olave MT, Martín A, Panizo C, Pérez E, Salar A, Orfao A. Guidelines for diagnosis, prevention and management of central nervous system involvement in diffuse large B-cell lymphoma patients by the Spanish Lymphoma Group (GELTAMO). Haematologica 2017;102(2):235-245; https://doi.org/10.3324/haematol.2016.149120
Quijano S, López A, Manuel Sancho J, Panizo C, Debén G, Castilla C, Antonio García-Vela J, Salar A, Alonso-Vence N, González-Barca E, Peñalver FJ, Plaza-Villa J, Morado M, García-Marco J, Arias J, Briones J, Ferrer S, Capote J, Nicolás C, Orfao A; Spanish Group for the Study of CNS Disease in NHL. Identification of leptomeningeal disease in aggressive B-cell non-Hodgkin's lymphoma: improved sensitivity of flow cytometry. J Clin Oncol. 2009 Mar 20;27(9):1462-9. doi: 10.1200/JCO.2008.17.7089.
Correia RP, Bortolucci ACA, Lopes ACW, Sandes AF, Azambuja AP, Viana MA, et al. Recommendations for quality assurance in multiparametric flow cytometry: first concensus of the Brazilian Group of Flow Cytometry (GBCFLUX). J. Bras. Patol. Med. Lab.2015;51(6):389-396 https://doi.org/10.5935/1676-2444.20150061
Kraan J, Gratama JW, Haioun C, Orfao A, Plonquet A, Porwit A, Quijano S, Stetler-Stevenson M, Subira D and Wilson W. (2008), Flow Cytometric Immunophenotyping of Cerebrospinal Fluid. Current Protocols in Cytometry, 45: 6.25.1-6.25.16. https://doi.org/10.1002/0471142956.cy0625s45
Campos A, Trujillo L, López D, Beltrán L, Arias E, Vélez G, Infante A, Reyes I, Vizcaíno M, Guzmán P C, Herrera MV, Solano J, Londono D, Cañas A, Pretelt F, Pérez JC, Cardozo C, Fiorentino S, and Quijano, S. (2017). Study of body fluid samples using flow cytometry: Six years of experience at the Hospital Universitario San Ignacio – Pontificia Universidad Javeriana, Bogota – Colombia. Universitas Scientiarum (2017). 22. 123-143. 10.11144/Javeriana.SC22-2.sobf.
Product Codes
| | |
| --- | --- |
| TF-CSF-L-2 | TransFix / EDTA CSF 1-4ml Sample Storage Tube (2 tubes) |
| TF-CSF-L-10 | TransFix / EDTA CSF 1-4ml Sample Storage Tube (10 tubes) |
| TF-CSF-L-50 | TransFix / EDTA CSF 1-4ml Sample Storage Tube (50 tubes) |
| TF-CSF-S-2 | TransFix / EDTA CSF 0.25-1ml Sample Storage Tube (2 tubes) |
| TF-CSF-S-10 | TransFix / EDTA CSF 0.25-1ml Sample Storage Tube (10 tubes) |
| TF-CSF-S-50 | TransFix / EDTA CSF 0.25-1ml Sample Storage Tube (50 tubes) |
---
CSF Related Articles
---
CSF Resources
Reset
TransFix®: A Cellular Antigen Stabilisation Reagent

TransFix/EDTA CSF Sample Storage Tubes Flyer - CE IVD

Posters

Infiltration of CNS by acute leukaemia: Analysis of fresh and stabilised CSF

Validating the use of TransFix to stabilise cerebrospinal fluid (CSF) for flow cytometry immunophenotyping of haematological malignancies

Instructions

TransFix®/EDTA CSF Storage Tubes - Product Information Sheet (RUO)

TransFix/EDTA CSF Sample Storage Tube - Instructions for Use (CE/IVD)

TransFix® - GPR Instructions For Use (USA)

Symbols Glossary

Further Information

ISO 13485:2016 Certificate

Antibodies compatible for use with TransFix

Bibliography

WHITE PAPER: Evaluation of TransFix/EDTA CSF Sample Storage Tubes compared to alternative preservation methods

Many central nervous system (CNS) diseases such as inflammatory neurologic diseases, leukaemia, or autoimmune diseases, are associated with the presence of white blood cells in the cerebral spinal fluid (CSF). The detection of leukocyte subsets in CSF is of vital importance for the accurate diagnosis and treatment of such diseases. However, low cellularity and cell viability of leukocytes causes challenges when analysing CSF with flow cytometry, and it is recommended that native CSF samples are analysed within 1 hour of lumbar puncture (Kraan et. al. 2008, De Graaf et al. 2011, Korfel et al. 2016). This eliminates the possibility of multicentre studies and centralised diagnostics (Sedek et al. 2020) resulting in heterogeneity in interpretation of the results of clinical trials and difficulty in the homogenous management of affected patients (Del Principe et al. 2020). Various methods of preservation/stabilisation of CSF samples have been attempted but there is little data comparing their performances in preserving lymphoid and myeloid cells in CSF for flow cytometry assessment. In this study, mock CSF (MAS-CSF spiked with PBMCs) was stabilised with TransFix/EDTA, basal RPMI and complete RPMI, and compared to untreated mock CSF to determine the most optimal stabilisation method. Samples were tested by flow cytometry at different time points over 3 days. Data showed that the TransFix treated samples provided consistent cell recovery for at least 72 hours after collection. Conversely, untreated, basal RPMI and complete RPMI samples exhibited a dramatic reduction in cell events compared to TransFix at all time points, including 0 hours (75.5, 83.0 and 47.8% reduction, respectively) and 0.5 hours (56.1, 73.3 and 35.3% reduction, respectively). These data indicate that TransFix/ETDA CSF Sample Storage Tubes provide clear benefits over the use of untreated or RPMI stabilised samples and should be used for all CSF samples destined for flow cytometric analysis.

Use of TransFix cerebrospinal fluid storage tubes prevents cellular loss and enhances flow cytometric detection of malignant hematological cells after 18 hours of storage

In patients with suspected or proven leptomeningeal localised haematological malignancies (LHM) in CSF, rapid assessment is required as cell numbers decline quickly after lumbar puncture. The study aim was to examine leukocyte numbers and detection of LHM by flow cytometry in 99 CSF samples from patients with suspected or proven LHM after 30 minutes and 18 hours of storage in i) TransFix/EDTA CSF Sample Storage Tubes ii) serum-containing medium and iii) no stabilising agent (untreated). It was found that leukocyte numbers in TransFix stabilised CSF were higher than in the corresponding untreated samples at both time points. After 18 hours of storage at 4 degrees Celsius, the detection of LHM was enhanced in TransFix stabilised CSF. For all discordant paired observations, the level of suspicion of a patient having LHM was higher for the TransFix stabilised samples than for the untreated samples. The authors concluded that the use of TransFix/EDTA CSF Sample Storage Tubes prevents cellular loss and enhances flow cytometric detection of LHM after 18 hours of storage.

The influence of fixation of biological samples on cell count and marker expression stability in flow cytometric analyses

In this review, the authors summarise the literature data on the influence of sample storage under different temperatures and times combined with different fixation conditions on the cell count and marker expression levels. Based on the findings of several extensive studies employing fixed PB samples, it can be concluded that the performance of particular fixative greatly depends on the analysed marker and specific PB cell population expressing a given antigen. Preservation of absolute cell count was usually better in Cyto-Chex®-fixed PB samples, whereas TransFix® tended to better stabilise marker expression levels. CSF-based studies reveal that both serum-containing media and TransFix® can prevent cellular loss and enhance FC-based detection of leptomeningeal localisations of haematological malignancies, the latter being more available and having longer shelf-life. As both cell count and marker expression level are the main determinants of quality of biological samples dedicated to FC analyses, it remains to be addressed by the investigators which is the fixative of choice for their specific research aims.

TH17/Treg imbalance and IL-17A increase after severe aneurysmal subarachnoid hemorrhage

CSF and peripheral blood were analysed in patients after severe aneurysmal subarachnoid haemorrhage to assess TH17, TH1, TH2, T regulatory cells and neutrophils. These samples underwent flow cytometry and cytometric bead analysis. CSF was collected in TransFix tubes for flow cytometry for analysis. Flow Cytometry panel: BV450-conjugated anti-CD3, PerCPCy5.5-conjugated anti-CD4, APC-H7-conjugated anti-CD8, V500- conjugated anti-HLA-DR, FITC-conjugated anti-CD45, PE-conjugated anti-CD183 (CXCR3), PECy7-conjugated anti-CD196 (CCR6), APCconjugated anti-CD38, PE-conjugated anti-CD25, PECy7-conjugated anti-CD194 (CCR4) and APC-conjugated anti-CD127 (all reagents from BD Pharmingen, San Diego, USA)

Ten-color 15-antibody flow cytometry panel for immunophenotyping of lymphocyte population

The Authors of this paper have developed a lymphoproliferative disorder screening tube (LPD- ST) with the aim to provide comprehensive immunophenotyping of lymphocyte subsets with minimal need for additional testing. The LPD- ST consists of CD4/kappa FITC, CD8/lambda PE, CD3/CD14ECD, CD38PC5.5, CD20/CD56PC7, CD10APC, CD19APC- A700, CD5APC- A750, CD57/CD23PB and CD45KO. They also claim that this new LPD- ST is more suitable with paucicellular samples such as cerebrospinal fluid (CSF) than previous lymphocyte subset panels. In their experiments, the Authors fix CSF samples in TransFix, and it is inferred that flow results match immunohistochemical staining results.

Study of body fluid samples using flow cytometry: Six years of experience at the Hospital Universitario San Ignacio -Ponti cia Universidad Javeriana, Bogota - Colombia

The Authors discuss findings from 6 years of experience in implementing flow cytometry in Columbia. The authors used TransFix to stabilise all sample, consisting of mainly cerebrospinal fluid, but also bronchoalveolar lavage, pleural fluid, pericardial fluid and ascite fluid from patients with acute and chronic leukaemia, myelodysplastic syndromes, lymphomas, myeloma, autoimmune diseases, immunodeficiencies and solid tumours. The Authors final conclude that this work represents the first report at the national level supporting TransFix implementation in pre-analytical FCM studies of all body fluids that are processed in the clinical practice.

Stability of canine and feline cerebrospinal fluid samples regarding total cell count and cell populations stored in "TransFix®/EDTA CSF sample storage tubes"

This research article looks into storing canine and feline cerebrospinal fluid samples in TransFix/EDTA CSF sample storage tubes. The determinant factors were total cell count and cell populations. TransFix was determined to be suitable for storing for extended periods of time before analysing lymphocytes and granulocytes by flow cytometry. The Authors observe leukocytes could not be adequately stained with turks solution and issues with CD14 monocyte detection.

Role of flow cytometry immunophenotyping in the diagnosis of leptomeningeal carcinomatosis

Purpose: To explore the contribution of flow cytometry immunophenotyping (FCI) in detecting leptomeningeal disease in patients with solid tumors. CSF samples obtained from a lumbar puncture (n = 77) and from an Ommaya reservoir (n = 1) were collected in EDTA tubes containing 0.2 mL of an immunofixative reagent (TransFix, Cytomark), necessary to guarantee safe transportation. FCI seems to be a promising new tool for improving the diagnostic examination of patients with suspicion of LC. Detection of epithelial cells with a higher DNA content is highly specific of LC, but evaluation of the nonepithelial cell compartment of the CSF might also be useful for supporting this diagnosis.

Recommendations for quality assurance in multiparametric flow cytometry: first consensus of the Brazilian Group of Flow Cytometry (GBCFLUX)

The Brazilian Group of Flow Cytometry have the objective of contributing to technical and scientific advances in Brazilian clinical and research laboratories. In this publication, they present consensus recommendations to ensure the process quality, technical standardization, and reproducibility of results for all FC working groups in Brazil. For quality control of the pre-analytical phase, they recommend to collect CSF directly into TransFix, which can then be stored at 2-8°C for 48-72 hours.

Leukemic blasts are present at low levels in spinal fluid in one-third of childhood acute lymphoblastic leukemia cases

The authors assessed centralised flow cytometry of locally TransFix-fixed cerebrospinal fluid (CSF) samples versus local conventional cytospin-based cytology for detecting leukemic cells and evaluating kinetics of elimination of leukemic cells in CSF. CSF samples were collected into tubes containing TransFix to stabilise B-cell precursor ALL (CD3/CD10/CD19/CD20/CD34/CD38/CD45), and T-cell ALL (CD3/CD4/CD7/CD8/CD45/CD56), allowing samples to be shipped for centralised analysis, preferably within three days of lumbar puncture. To verify leukemic classification, the CSF from 2 patients were flow sorted followed by FISH targeting the leukemic karyotypes. The authors recommend the use of on-site fixation and rapid centralised flow cytometric analysis of CSF samples.

Infiltration of CNS by acute leukaemia: Analysis of fresh and TransFix stabilised CSF

A research study to determine whether acute leukaemia blasts present in CSF can be successfully stabilised by TransFix has concluded that TransFix preserved light scatter and key antigen expression patterns allowing analysis of diagnostic and follow up CSF specimens for patients with CNS infiltration. Full evaluation of the antibody panels to be used on transfixed samples is also required since some antigens are expressed dimly.

Identification of Neoplastic Infiltration of the Cerebrospinal Fluid (CSF) in Patients with Aggressive B-Cell Non-Hodgkin's Lymphoma (B-NHL) without Clinical Evidence of Leptomeningeal Disease: A Comparative Analysis of the Utility of Flow Cytometry (FCM) Versus Conventional Cytology (CC)

Quote: In all cases, the CSF samples were analysed simultaneously by CC at the institution of origin and FCM, centrally one institution. For the FCM analysis of the CSF, stabilised samples (TransFix, CYTOMARK) were systematically stained with the following combination of monoclonal antibodies: CD8-sIgl/CD56-sIgk/CD4-CD19/CD3/CD20/CD45 (FITC/PE/PERCPCY5.5/PECY7/APC/APCCY7). If the FCM test showed infiltration, an additional 6-color antibody panel was used for full phenotypic characterisation of the disease.

Identification of Leptomeningeal Disease in Aggressive B-Cell Non-Hodgkin's Lymphoma: Improved Sensitivity of Flow Cytometry

We evaluate the sensitivity and specificity of a new 11-parameter Flow cytometry (FCM) approach versus conventional cytology (CC) for detecting neoplastic cells in stabilized CSF samples from newly diagnosed aggressive B-cell non-Hodgkin's lymphoma (B-NHL) at high risk of CNS relapse, using a prospective, multicentric study design. For multi-parameter FCM analyses, CSF samples (median volume, 2.0mL; range, 0.5 to 4.0 mL) were directly collected into tubes containing EDTA and 0.2 mL of TransFix (Cytomark) and shipped overnight to the central FCM laboratory. Immediately on arrival at the central laboratory, the volume of the CSF sample was measured (after subtracting 0.2 mL corresponding to the TransFix solution) and recorded;

Human dorsal root ganglion pulsed radiofrequency treatment modulates cerebrospinal fluid lymphocytes and neuroinflammatory markers in chronic radicular pain

The paper investigates the effects of Pulsed radiofrequency on lymphocyte frequencies and secreted inflammatory markers in the cerebrospinal fluid (CSF) to identify clinical markers of chronic radicular pain. CSF was stored and stabilised in TransFix/EDTA CSF sample storage tubes for subsequent flow cytometry analysis (CD45-APC, CD3-APC-Vio770, CD4-VioBlue, CD8-PerCP, CD56-PEVio770)

How to facilitate early diagnosis of CNS involvement in malignant lymphoma

The authors discuss several analysis methods to facilitate early diagnosis of CNS involvement in malignant lymphoma (CD19/10/45/kappa/lambda for B cell Lymphomas). They recommend stabilising CSF with TransFix if samples cannot be analysed within 1 hour for flow cytometric analysis.

Higher rate of central nervous system involvement by flow cytometry than morphology in acute lymphoblastic leukemia

This paper investigates the use of flow cytometry (FCM) as apposed to traditional cytopathology methods for diagnosis of central nervous system (CNS) involvement in acute lymphoblastic leukaemia (ALL). In the discussion, the author discusses the limitations of FCM, such as the viability declines rapidly in cerebrospinal fluid (CSF) samples, and cell degeneration occurs within 1 hour of sample collection. As a solution, the author recommends the use of TransFix to stabilise CSF for up to 72 hrs.

Guidelines on the use of multicolor flow cytometry in the diagnosis of haematological neoplasms

These guidelines have been developed by UK-based clinical flow cytometry (FC) experts along with clinical representatives to take into account advances in the state of the art of clinical flow cytometry since 2002. Their work was revised by the Haemato-oncology Task Force of the British Committee for Standards in Haematology (BCSH) before review by other UK-based Haematologists and FC experts, the BCSH and the British Society for Haematology committee. This document covers a varied range of topics, from selection and setup of flow cytometers through data analysis to training considerations for staff working in the clinical FC laboratory.The guidelines strongly recommend sample age and quality is assessed prior to analysis and in the case of cerebrospinal fluid (CSF), it is recommended that unless immediate analysis is possible then samples can be stored in TransFix/EDTA CSF Sample Storage Tubes for up to 72 hours before analysis*. *TransFix/EDTA CSF Sample Storage Tubes are currently a Research Use Only product and Cytomark recommends that internal validation of the product must be completed by the end user before considering use of the products in a clinical setting.

Guidelines For Diagnosis, Prevention And Management Of Central Nervous System Involvement In Diffuse Large B-Cell Lymphoma Patients By The Spanish Lymphoma Group (GELTAMO)

This report by the Spanish Lymphoma Group (GELTAMO) aims to provide useful guidelines and recommendations for the prevention, diagnosis, and treatment of central nervous system diffuse large B-cell lymphoma patients with, or at risk of, leptomeningeal and/or brain parenchyma lymphoma relapse. The Authors summarise and recommend the use of standardised and validated >8-colour FCM evaluation of stabilised CSF in the diagnosis work-up of DLBCL patients at risk of CNS disease for the identification of occult CNSL, and state that immediate sample preservation (preferably in TransFix) is strongly recommended.

Flow cytometry as a diagnostic tool in lymphomatous or leukemic meningitis

In patients with neoplastic meningitis (NM), early diagnosis is highly desirable because the rapid institution of intrathecal therapy may mitigate the course of the disease. Cytology, long considered the "gold standard" for diagnosis, has low sensitivity because of both the paucity of cells in the cerebrospinal fluid (CSF) and morphological similarities between benign and malignant cells. A comprehensive review of the literature from 2005 through 2011 was performed that focused on diagnostic modalities for lymphomatous meningitis. Several studies demonstrated the sensitivity of flow cytometry to be several-fold higher than that of cytology for the detection of CSF leukemia/lymphoma. Makes reference to use of TransFix to stabilise and transport CSF samples.

Flow Cytometric Immunophenotyping of Cerebrospinal Fluid

Quote: Leptomeningeal disease is an important adverse complication occurring in patients with B and T cell lymphomas and acute leukemias of lymphoid and myeloid origin. Recent reports suggest that multiparameter flow cytometry immunophenotypic assessment of spinal fluid samples could improve the efficiency of detection of CNS involvement, due to its high specificity and greater sensitivity. However, spinal fluid samples are frequently paucicellular with a rapidly decreasing cell viability. Staining of spinal fluid therefore requires dedicated sample storage/transport, staining, and preparation protocols. The Basic Protocol in this unit outlines a consensus multiparameter (3- to 8-color) flow cytometry immunophenotypic protocol for the evaluation of CNS involvement of cerebrospinal fluid (CSF) samples by neoplastic cells. A Support Protocol describing the simultaneous assessment of surface and cytoplasmic antigens is also provided. Finally, in the Alternate Protocol, we describe a method to calculate absolute numbers of both normal and pathological cell subpopulations by adding counting beads to the assay.

EuroFlow antibody panels for standardized n-dimensional flow cytometric immunophenotyping of normal, reactive and malignant leukocytes

Section 3 discusses the design and evaluation of the 8-colour, 13 parameter Euroflow™ small sample tube (SST) and related sample preparation protocols aimed to evaluate CSF and Vitreous biopsy samples, in patients suspected of leukaemia. Samples collected either with culture medium with FBS of FCS, or in TransFix Sample Storage Tubes, which the author states in the general discussion result in optimal stabilization of the cells for a few days (for example, 48h) and improve cell detection.

ESCCA/ISCCA protocol for the analysis of cerebrospinal fluidby multiparametric flow- cytometry in hematologicalmalignancies

This protocol by the ESCCA and ISCCA sets out the process for analysing cerebrospinal fluid via flowcytometry. It recommends that either the CSF sample should be processed within 60 minutes of harvesting or stored in TransFix tubes and confirms that it works for stabilising CSF cells. A lower peripheral blood contamination was also seen in samples that were fixed with TransFix.

Differences in cerebrospinal fluid inflammatory cell reaction of patients with leptomeningeal involvement by Lymphoma and carcinoma

Dissemination of neoplastic cells into the cerebrospinal fluid (CSF) and leptomeninges is a devastating complication in patients with epithelial cell neoplasia and lymphomas. In this study, flow cytometry immunophenotyping was used to analyse CSF leukocyte populations in the CSF of patients diagnosed with leptomeningeal infiltration by solid tumors and lymphomas. CSF samples were collected in tubes containing ethylenediamine tetraacetic acid and an immunofixative reagent (TransFix) for safe transportation and were processed with a median of 3 days from extraction.

Diagnostic and prognostic significance of flow cytometry immunophenotyping in patients with leptomeningeal carcinomatosis

A multi-center study with eight patient recruitment centers throughout Spain that used TransFix CSF tubes to stabilise CSF samples from 166 patients. The study examined the sensitivity and specificity of flow cytometry (FC) diagnosis for leptomeningeal carcinomatosis. Compared with Cytology, FC showed greater sensitivity and negative predictive value, but lower specificity and positive predictive value. The multivariate analysis revealed that the percentage of CSF EpCAM positive cells predicted an increased risk of death.

Detection of occult cerebrospinal fluid involvement during maintenance therapy identifies a group of children with acute lymphoblastic leukemia at high risk for relapse

To determine the clinical significance of the levels of lymphoblasts in the cerebrospinal fluid (CSF) of children diagnosed with acute lymphoblastic leukaemia (ALL).CSF samples from 136 patients were analysed by conventional cytology (CC) and flow cytometry (FCM) at the time of diagnosis and after intra-thecal therapy (IT). CSF samples for analysis by FCM were treated with TransFix at sample collection to facilitate transport of samples from 8 different hospitals to one centre for analysis. The results support previous findings that FCM analysis was more sensitive than CC in the detection of leukemic cells present in the CSF samples and can provide a powerful tool in detecting residual leukemic cells in the central nervous system.

Detection of central nervous system involvement in childhood acute lymphoblastic leukemia by cytomorphology and flow cytometry of the cerebrospinal fluid

The authors retrospectively compared flow cytometric immunophenotyping (CFI) of CSF with cytomorphology (CM) at diagnosis or relapse of childhood acute lymphoblastic leukaemia (ALL). They concluded that FCI of CSF increased the detection rate of CNS involvement of ALL approximately two times compared to cytomorphology, and that patients with low level CNS involvement may benefit from additional intensified systemic or CNS-directed therapy. CSF specimens were processed immediately on receipt in the laboratory or fixed in TransFix and processed the next morning. The authors note that one of the main problems in analysing CSF is the rapid cell death of leukocytes after sampling. Therefore, the FCI and CM results also always reflect the time from sampling until the start of analysis. Routine use of stabilization media or fixative immediately after sampling could further facilitate detection of malignant cells.

Detection & outcome of occult Leptomeningeal disease in diffuse large B-cell lymphoma and Burkitt lymphoma

Cytology of cerebrospinal fluid (CSF), the diagnostic gold standard has a low sensitivity with reported false negative rate of 20-60% suggesting that pre-treatment involvement of leptomeningeal disease is greater than initially reported. CSF was either analysed within an hour of lumbar puncture, or it was stabilised by two methods, one of which was using TransFix using the method outlined in the paper. Results provided the first evidence that occult CSF involvement by DLBCL or BL is clinically meaningful and associated with an adverse outcome. Results also indicated that patients at risk of CNS disease will benefit from intrathecal chemotherapy.

Current strategies in the diagnosis of diffuse large B-cell lymphoma of the central nervous system

A detailed review of current strategies used in the diagnosis of diffuse large B cell lymphoma. The use of flow cytometry to detect CSF involvement in Primary CNS Lymphoma (PCNSL )provides improved diagnostic sensitivity as compared to cytopathology alone. With the availability of TransFix it is now possible to preserve CSF for up to 10 days. Accordingly it is now possible to analyse CSF samples from PCNSL patients in a central laboratory, preferably within a large multi-centre study.

Contribution of cerebrospinal fluid sCD19 levels to the detection of lymphoma and its impact on disease outcome

The Authors treat CSF samples with TransFix for Flow Cytometry analysis within 24 hours. Samples are stained using the EuroFlow small sample tube (SST: CD20, CD45, CD8-surface membrane immunoglobulin (SmIg)lambda, CD56-SmIgkappa, CD4, CD19, SmCD3-CD14, CD38)

Combining MYD88 L265P mutation detection and clonality determination on CSF cellular and cell-free DNA improves diagnosis of primary CNS lymphoma

This paper aimed to improve the diagnosis of primary CNS lymphoma and make it less invasive, this was achieved by using both clonality detection on CSF cellular and cell-free DNA and mutation detection. TransFix cell stabilising agent was used in the CSF collection tube for the flow cytometry evaluation. CSF cells were labelled with an eight-colour FCM antibody panel including anti-CD45 (HV500, Becton Dickinson), CD3 (BV421, Becton Dickinson™), CD4 (PE-CY7, Becton Dickinson™), CD8 (APC-AF750, Beckman Coulter), CD5 (APC, Becton Dickinson™), CD19 (PC5.5, Beckman Coulter™), kappa (FITC, Agilent™) and lambda (PE, Agilent™)

Clinical significance of occult cerebrospinal fluid involvement assessed by flow cytometry in non-Hodgkin's lymphoma patients at high risk of central nervous system

Quote: The specific techniques and procedures used for the analyses of CSF samples have been previously described in detail (21). CSF samples were analysed in parallel using CC in the hospital of origin and centrally by FCM at the Cytometry Service of the University of Salamanca (Spain) using a standardised 11-parameter FCM immunophenotypic assay of CSF samples stabilised with 0.2 mL of TransFix added at the hospital of origin.

Clinical relevance of flow cytometric immunophenotyping of the cerebrospinal fluid in patients with diffuse large B-cell lymphoma

Central nervous system (CNS) relapse is an uncommon but dramatic complication of diffuse large B-cell lymphoma (DLBCL). Several studies have demonstrated the superiority of cerebrospinal fluid (CSF) flow cytometry (FCM), as compared with conventional cytology (CC), in detecting occult leptomeningeal disease. The clinical relevance of a positive FCM still has to be clarified. Makes reference to use of TransFix to stabilise and transport CSF samples.

Characterisation of the effects of pulsed radio frequency treatment of the dorsal root ganglion on cerebrospinal fluid cellular and peptide constituents in patients with chronic radicular pain: A randomised, triple-blinded, controlled trial

In this tripled-blinded control trial, the authors aimed to characterise the CSF cellular and peptide constituents in patients with chronic neuropathic pain (CNP) and the effect of pulsed radiofrequency (PRF). As part of the trial, CSF samples were stabilised in Transfix/EDTA CSF sample storage tubes for subsequent analysis of by flow cytometry. Lymphocyte subsets were characterised by CD45, CD3, CD4, CD8, CD56, CD69, CD45RA, and CD27 markers. The authors conclude that PRF is superior to local anaesthetic administration for the management of radicular pain and is associated with CSF constituent modulation in vivo. Patients with CNP have lymphocyte characteristics which suggest immune activation.

Cerebrospinal fluid findings in patients with hematologic neoplasms and meningeal infiltration

This study sets out to discover the relationship between CSF findings and infiltration of neoplasms into the CNS. Cytomorphology and Flow Cytometry were both used to assess their diagnostic capacities of this. TransFix was used in this study to help preserve cell stability for immunophenotyping whilst the samples were being transported for analysing.

Analysis of Neural Progenitor Cells in The Cerebrospinal Fluid of Preterm Infants with Posthaemorrhage Ventricular Dilatation

The Author hypothesised that Neural Progenitor Cells (NPC) are present in the CSF of premature infants with posthaemorrhagic ventricular dilatation (PHVD). Their aim was to develop and optimize the methods and techniques to identify and characterize NPC in the CSF of preterm infants with PHVD. When the author could not access fresh CSF samples, they used TransFix to stabilise antigens for cell counting via FACS for up to 8 days.

An examination of the neuroimmune interactions of amitriptyline, spinal cord stimulation and opioid therapy in human neuropathic pain

This thesis looks into neuroimmune interactions in human neuropathic pain. The interactions explored are of amitriptyline, spinal cord stimulation and opioid therapy. This was achieved by taking cerebrospinal fluid before and after treatment and screening for neuropathic pain. Flow cytometry was used to compare the baseline and post intervention samples. TransFix was used to fix the sample for storing before use of flow cytometry and in vortexing. Panel 1(T cells) contained: CD-8, CD4, CD27, CD45, CD69, CD-45RA (Mitlenyi Biotech, Germany) and CD3 PE-eFluor 610 (eBioscienceThermoFisher Scientific, USA). Panel 2 (NK cells) contained: CD56, CD69, CD45, and CD3-PE- eFluor 610 (Biosciences, Dublin, Ireland).

A British Society for Haematology good practice paper: Recommendations for laboratory testing of UK patients with acute myeloid leukaemia

The British journal of haematology recommendations for lab testing of UK patients of acute myeloid leukaemia. TransFix is suggested as the option for extending the life of the sample.

Material Safety Data Sheets

TransFix Veiligheidsinformatieblad (Nederlands)

TransFix Sikkerhedsdatablad (Dansk)

TransFix Sicherheitsdatenblatt (Deutsche)

TransFix Scheda di Dati di Sicurezza (Italiano)

TransFix Säkerhetsdatablad (Svenska)

TransFix Material Safety Data Sheet (English)

TransFix Material Safety Data Sheet (English - US)

TransFix Fiche de données de sécurité (Français)

TransFix Fichas de datos de seguridad (Español)

TransFix Bezpecnostni list (Czech)

Ficha de dados de segurança (Portuguesa)

Certificates of Analysis/Conformity

Batch 30031.01 (CE/IVD)

Batch 30026.08 (RUO)

Batch 30026.07 (CE/IVD)

Batch 30026.06 (RUO)

Batch 30026.04 (CE/IVD)

Batch 30026.03 (CE/IVD)

Batch 30026.02 (CE/IVD)

Batch 30026.01 (CE/IVD)

Batch 30018.14 (CE/IVD)

Batch 30018.13 (RUO)

Batch 30018.12 (RUO)

Batch 30018.10 (CE/IVD)

Batch 30018.08 (CE/IVD)

Batch 30018.07 (CE/IVD)

Batch 30018.06 (RUO)

Batch 30018.05 (CE/IVD)

Batch 30018.04 (CE/IVD)

Batch 30018.03 (CE/IVD)

Batch 30018.02 (CE/IVD)

Batch 30018.01 (CE/IVD)

Batch 30010.15 (RUO)

Batch 30010.14 (RUO)

Batch 30010.13 (CE/IVD)

Batch 30010.12 (RUO)

Batch 30010.10 (RUO)

Batch 30010.09 (CE/IVD)

Batch 30010.08 (RUO)

Batch 30010.07 (CE/IVD)

Batch 30010.06 (RUO)

Batch 30010.04 (CE/IVD)

Batch 30010.03 (RUO)

Batch 30010.02 (CE/IVD)

Batch 30010.01 (CE/IVD)

Batch 29992.15 (CE/IVD)

Batch 29992.14 (CE/IVD)

Batch 29992.13 (CE/IVD)

Batch 29992.12 (RUO)

Batch 29992.11 (CE/IVD)

Batch 29992.09 (RUO)

Batch 29992.07 (CE/IVD)

Batch 29992.06 (RUO)

Batch 29992.05 (RUO)

Batch 29992.04 (RUO)

Batch 29992.03 (RUO)

Batch 29992.02 (CE/IVD)

Batch 29977.12 (RUO)

Batch 29977.11 (RUO)

Batch 29977.10 (IVD)

Batch 29977.09 (IVD)

Batch 29977.08 (RUO)

Batch 29977.07 (RUO)

Batch 29977.06 (RUO)

Batch 29977.05 (RUO)

Batch 29977.04 (IVD)

Batch 29977.03 (IVD)

Batch 29977.02 (IVD)

Batch 29951.16 (RUO)

Batch 29951.15 (RUO)

Batch 29951.14 (RUO)

Batch 29951.13 (RUO)

Batch 29951.12 (RUO)

Batch 29951.11 (IVD)

Batch 29951.10 (RUO)

Batch 29951.09 (RUO)

Batch 29951.07 (RUO)

Batch 29951.06 (IVD)

Batch 29951.05 (IVD)

Batch 29951.04 (IVD)

Batch 29942.23 (RUO)

Batch 29942.21 (IVD)

Batch 29942.20 (RUO)

Batch 29942.19 (RUO)

Batch 29942.17 (RUO)
---
Explore All Resources