Measurement of T-cell activation can be important when assessing immune responses, however cells can become artificially activated over time once removed from the body.
TransFix has been used to stabilise activated T-cell populations. We've presented a selection of publications to highlight the versatility of TransFix below. Read on to find out the different ways that researchers benefit from sample stabilisation when studying T-Cell activation.
Measurement of Immune System Activation in HIV-2 Infection.
Almost 10 years ago, Leligdowicz et al. used TransFix to assess the relationship between HIV-2 plasma virus load and immune system activation using HLA-DR and CD38. TransFix was used to preserve T-Cells for between 2-14 days before they were analysed.
Preserving T-Cell Activation Profiles in Coeliac Disease
Since Leligdowicz's publication, other publications have since been released. In 2014, Olivares et al. identified activated CD45+HLA-DR+ positive T-cells from TransFix-treated blood in relation to coeliac disease. TransFix allowed room-temperature transportation of samples from collection sites to a central testing site in this clinical trial.
Stabilising T-Cell Activation Profile in Response to Therapeutic Antibodies
Poirier et al. used TransFix to stabilise the immune profile in their clinical trial, using CD69+ and CD25+ to identify activated T-cells in response to anti-CD28 therapy; FR104. TransFix allowed collection of samples from very frequent timepoints (0.5, 0.75, 1, 2, 4, 8 and 24 hours) monitoring the response to the drug, allowing all samples to be analyzed at a more convenient time.
For more examples of publications referencing the use of TransFix, visit our bibliography section!
TransFix Products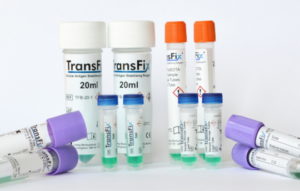 TransFix® has been validated with a number of specific sample types and optimised with specially designed sample collection tubes:
If you have a problem with sample degradation in your research, contact us to see if TransFix could help.