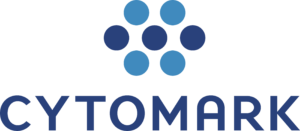 Cytomark, a division of Caltag Medsystems, recently presented a scientific poster at the ICCS2017 conference in collaboration with Bristol Royal Infirmary (Bristol, UK)
"Validating the use of TransFix to stabilise cerebrospinal fluid (CSF) for flow cytometry immunophenotyping of haematological malignancies"
This study aimed to validate TransFix as a means of stabilising leukocytes in CSF for up to 72 hours following lumbar puncture for diagnostic and prognostic work-up of haematological malignancies va flow cytometry. Also, to validate antisera panels for TransFix treated CSF samples:
TransFix preserved light scatter and key antigen expression patterns to allow for analysis of diagnostic and follow-up CSF specimens for patients with CNS infiltration.
The signal from stabilised cells was weaker compared to fresh samples and gates required adjusting, but this did not affect relative population sizes or qualitative description of abnormal
populations.
Critically, data generated from this study validated the use of TransFix stabilised CSF for 72 hours as the clinical interpretation between fresh and stabilised samples was the same.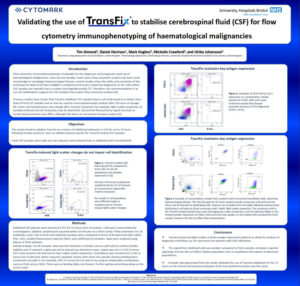 Background: CSF stabilization with TransFix
Flow cytometry immunophenotyping is invaluable for the diagnostic and prognostic work-up of haematological malignancies. Over the last decade, multi-colour flow cytometry analysis has been used increasingly to investigate leptomeningeal disease; several studies show the utility and sensitivity of this technique for both B cell Non-Hodgkin's Lymphoma and Acute Leukaemia diagnostics. Cells within CSF samples are typically low in number and degrade quickly. Therefore, the recommendation is to use cell stabilisation reagents for CSF samples that require flow cytometry analysis. Previous studies have shown that TransFix stabilised CSF samples have a cell yield equal to or better than that of fresh CSF samples and so may be used for immunophenotypic analysis after 18 hours of storage. Some cell characteristics may change after TransFix treatment: for example, light scatter properties of peripheral blood and CSF leukocytes may be altered and the fluorochrome signal intensity of certain bound antisera may differ, although this does not necessarily hamper analysis.
TransFix/EDTA CSF Sample Storage Tubes
TransFix/EDTA CSF Sample Storage Tubes are manufactured in the UK by Cytomark, a division of Caltag Medsystems Ltd. and are available globally through a series of international distributors.
If you have any questions about these products, please contact us.
Further Information