TransFix is designed for stabilisation of peripheral blood and cerebrospinal fluid to enumerate lymphocyte subpopulations by flow cytometry. However, researchers have developed many new and innovative uses of TransFix.
We have highlighted publications showing the versatility of TransFix. Read on to find out the different ways that researchers benefit from sample stabilisation. Please note that Cytomark have not validated these applications and these do not constitute an IVD product claim.
If you have a problem with sample degradation in your research, contact us to see if TransFix could help.
We've also updated our list of markers compatible with TransFix based on recent publications. You can download the updated list here:
Download List of Compatible Markers (.xlsx)
Contents:
Preservation of Intracellular Phospho-specific Markers with TransFix
Kazmierska et al. evaluated the changes in γ-H2AX phosphorylation in peripheral blood lymphocytes (PBL) as a potential biomarker to the severity of radiation-induced mucositis. Blood samples were stabilized with Transfix to assist with the logistics of the study. H2AX phosphorylation levels were examined by flow cytometry using the Apoptosis, DNA Damage, and Cell Proliferation Kit (BD, USA). Cells were permeabilized using BD Cytofix/Cytoperm Fixation/Permeabilization Solution.
Basophil Population Stabilisation
In this phase I study, Laviolette et al. evaluated the safety of benralizumab in adults with eosinophilic asthma and its effects on eosinophil counts. One of the exploratory objectives in multicentre phase I study included evaluation of basophil in PB, for which blood was collected in lithium-heparin then TransFix was added to stabilize and preserve cells for subsequent flow cytometric analysis. After shipping to a central testing facility (within 14 days) co-expression of IgE high-affinity receptor (FcεRI) and CCR3 with CD123 and chemoattractant receptor of type 2 helper T cells (CRTH2) were collectively consulted to identify the basophil population.
Transport of CSF Samples for Large Scale Studies
Thastrup et al. investigated if flow cytometric analysis of cerebrospinal fluid (CSF) at diagnosis improves the prediction of relapse compared to traditional cytospin and microscopy methods in BCP-ALL and T-ALL cases. CSF samples were preserved on-site with TransFix allowing transport from 17 centres to a single central laboratory for analysis. The Authors concluded that flow cytometric analysis of CSF improves detection of CNS leukaemia, distinguishes patients with high and low risk of relapse, and may improve future risk stratification and CNS-directed therapy.
Freezing Blood Samples for Deferred Immunophenotyping
This study used the TVTs and BCTs to compare the immunophenotype of fixed peripheral whole blood samples at time zero, and after freezing at -80°C for 7 days. The structural integrity of the frozen TVTs and BCTs were also examined. Optimisation of storage conditions was further investigated to improve immunophenotyping after freezing. TVTs showed the best cell percentage differences from the control with average lymphocyte cell recovery of 77% compared to 26% for the BCTs. All three BCTs cracked during the freezing process while all of the TVTs remained intact. Storage optimisation experiments showed tubes frozen at an angle and thawed at 37°C performed best overall. These results raise the possibility that whole blood samples for immunophenotyping may be stored at -80°C for extended periods beyond 7 days. Further studies will aim to demonstrate the upper limit of time the sample will remain stable and suitable for immunophenotyping. Experiments will also be conducted to examine the suitability for use in phosphoflow assays.
Reduce Variability in Clinical Trials by Stabilizing Samples
TransFix provides a reduction in sample variation by reducing the enzymatic degradation of cells and cellular markers. This allows blood samples to be batched for up to 14 days and analyzed together, whilst maintaining the immune profile of a freshly taken sample.
Stabilizing with TransFix allows clinical trial samples to be shipped to a centralized testing facility from remote locations. This relieves the time pressures of analyzing fresh samples.
For more examples of publications referencing the use of TransFix, visit our bibliography section!
TransFix Products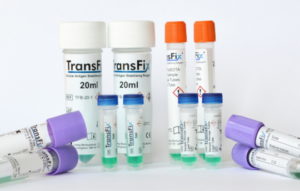 TransFix® has been validated with a number of specific sample types and optimised with specially designed sample collection tubes:
If you have a problem with sample degradation in your research, contact us to see if TransFix could help.