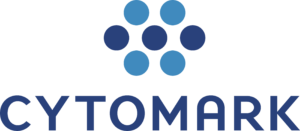 Cytomark, a division of Caltag Medsystems, recently presented a scientific poster at the ICCS2017 conference in collaboration with the Royal Hallamshire Hospital (Sheffield, UK), Royal Sussex County Hospital (Brighton, UK), and Roswell Park Cancer Institute (Buffalo, NY, USA).
"Inter-laboratory Comparison of the TransFix/EDTA Vacuum Blood Collection Tube (TVT) with the 5 mL Cyto-Chex® BCT"
This study aimed to assess the performance of the TransFix Vacuum Blood Collection Tube (TVT) and the Cyto-Chex BCT devices across three clinical FC sites for their shared intended purpose of stabilizing lymphocytes for immunophenotyping via flow cytometry for up to 14 days.
The TVT and BCT exhibited good clinical agreement with the "gold standard" BD Vacutainer result with regard to lymphocyte absolute count recoveries over the 15 day testing period.
There were improved performance characteristics, in relation to the cell marker auto-fluorescence for lymphocytes recognized as CD3- and cell debris, from samples that were stabilized by the TVT over the BCT.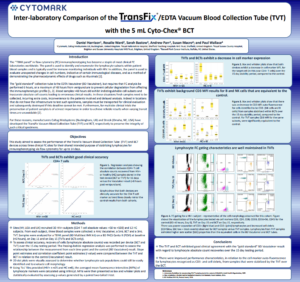 Background: Lymphocyte "TBNK Panel" stabilisation with TransFix
The "TBNK panel" in flow cytometry (FC) immunophenotyping has become a staple of most clinical FC laboratories worldwide. The panel is used to identify and enumerate the lymphocyte subsets within patient blood samples and is typically used for immune monitoring individuals with HIV. In addition, the panel is used to evaluate unexpected changes in cell numbers, indicative of certain immunological diseases, and as a method of demonstrating the pharmacodynamic effects of drugs such as rituximab.
The "gold standard" collection tube is the EDTA Vacutainer (BD Vacutainer), but requires that FC analysis be performed 6 hours, or a maximum of 48 hours from venipuncture to prevent cellular degradation from affecting the immunophenotypic profile. Blood samples ˃48 hours old exhibit indistinguishable cell subsets and inaccurate absolute cell counts leading to erroneous clinical results. In these situations fresh samples need to be collected, incurring extra costs, inconvenience to the patients involved and delayed analysis. Indeed in locations that do not have the infrastructure to test such specimens, samples must be transported for clinical evaluation and subsequently destroyed if this deadline cannot be met. Furthermore, for multisite clinical trials the
preservation of patient samples is of utmost importance in order to achieve reliable results when varying transit times are unavoidable.
For these reasons, manufacturers Caltag Medsystems (Buckingham, UK) and Streck (Omaha, NE, USA) have developed the TransFix Vacuum Blood Collection Tube (TVT) and BCT, respectively to preserve the integrity of such critical specimens.
TransFix/EDTA Vacuum Blood Collection Tubes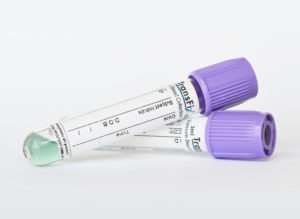 TransFix/EDTA Vacuum Blood Collection Tubes (TVT) are manufactured in the UK by Cytomark, a division of Caltag Medsystems Ltd. and are available globally through a series of international distributors.
If you have any questions about these products, please contact us.
Further Information